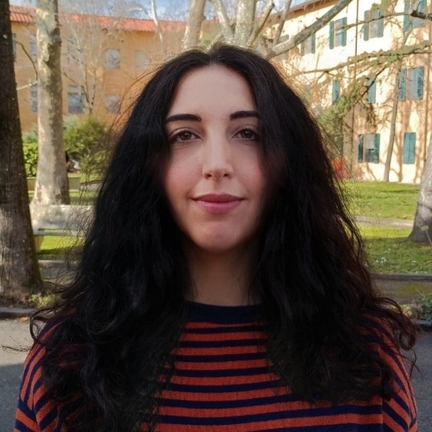 Manola Colabianchi
PhD Student

Department of Agriculture, Food and Environment, University of Pisa
Contact Info:
manola.colabianchi@phd.unipi.it
80 Via del Borghetto, Pisa
I am an architect with over 5 years of professional experience at various scales and in different roles. After a period in a small firm and acquiring professional qualification in 2015, I worked as a junior project manager in a general contractor and as a freelance architect. As part of this work, I was engaged in the projects on L'Aquila post-earthquake reconstruction. I have experience of teamwork also in international contexts.
My academic background includes a master's degree in Architecture from Sapienza, University of Rome and a master's degree in Urbanism and Strategic Planning at KU Leuven (Belgium). As part of the European Post Master in Urbanism (Strategies and Design for Cities and Territories), I studied at TU Delft (The Netherlands) for six months.
In 2021, I joined the team as a PhD student at the Department of Agriculture, Food and Environment, University of Pisa. Currently, my research focuses on rural development and the strategies of vitalization of areas at the margins of the territorial development process, which reflect a post-war Western trend of rural depopulation, abandonment and socio-economic distress. I am particularly interested in the relations between rural, peri-urban and urban areas, the process of land de-commoning and the participatory approach in the process of decision making.
KEY RESEARCH INTERESTS
Rural development
Relations between rural, peri-urban and urban areas
Urban form and historical centers
CORE COMPETENCES
Spatial analysis of urban and regional processes (e.g. GIS tools)
Participatory methods
CURRENT EU-FUNDED PROJECTS
MOVING – Mountain Valorization Through Interconnectedness and Green Growth
SHERPA – Sustainable Hub to Engage into Rural Policies with Actors
See the list of all projects the group is involved in here
RECENT PUBLICATIONS
Furlan, C.; Colabianchi M.; "The socio-cultural construction of urban wasteland: Mapping of the Antwerp Southside", in Bobic, N.; Haghighi, S. (eds.), Routledge Handbook of Architecture, Urban Space and Politics Vols I + II, New York: Routledge, 2022, accepted for publication.
Ricci, M.; Colabianchi M.; "Regenerating Italian historical villages: polices and good practices", in Fiorani, D.; Musso, S., Kealy, L., Crisan, R. (eds.), EAAE Restoration/Reconstruction. Small Historic Centers: Conservation in the Midst of Change, IV meeting and workshop (Roma-Castelvecchio Calvisio, 28-31 October 2013), EAAE Transactions on Architectural Education no 64, EAAE, Hasselt (Belgium), 2015, p.55-62.
Colabianchi, M.; Sanchez Landeros, Y. M.; Trejo Islas, M. C.; Venditto, T.; Sorgi, F.; Salaheldin Ismail Elsayed, D.; "L'Aquila 2.0 think green" in Di Ludovico, D.; Properzi, P. (a cura di), I Materiali del LAURAq on-line – Progetti Urbanistici per la Ricostruzione, collana: Pianeta INU, 2015, p.52-56