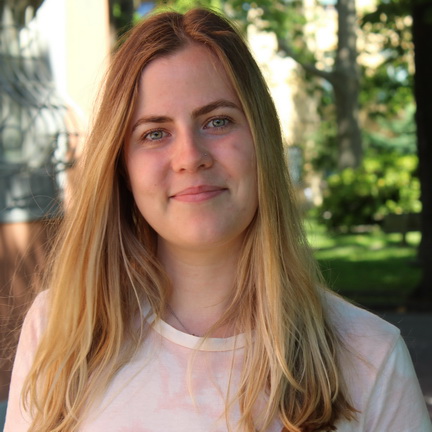 I have 5+ years of professional experience in various countries across the globe – the Netherlands, Germany, Italy, Portugal, Russia and China. During this time I performed diverse roles in sustainability research, business and education. By now, my research experience includes work in 4 EU-funded research projects covering a thematic spectrum from food systems and agri-food innovation to urban-rural linkages and digitalisation in rural areas.
Over time, my interest has evolved into pursuing an academic career in sustainable development bringing in experiences acquired in the private and public sectors. At the moment, my research focusses on transdisciplinary approaches in agri-food research, and in the context of rural-urban relations. I am particularly interested in the ways to strengthen research-policy-practice cooperation, co-learning processes, and the functioning of Living Labs as an approach in multi-actor collaboration.
In 2018, I joined the team as a PhD student and a junior researcher with an additional communications role. From January 2019, I have been leading a task on monitoring and evaluation of joint learning processes in 11 Living Labs (research-practice partner teams) in the transdisciplinary H2020 project ROBUST on rural-urban relations. More recently, I have also been supporting 1) Baltic Studies Centre team in their work dedicated to rural areas as part of the H2020 project DESIRA, and 2) my team in co-leading a task on monitoring and evaluation of the 20 Multi-Actor Platforms in the H2020 project SHERPA.
Research interests
Science-policy-practice collaboration

and co-learning processes

Enhancement of transdisciplinary processes in agri-food research, and in the context of rural-urban relations


Role of academic institutions and innovation brokers in supporting agri-food innovation
Core competences
Transdisciplinary concepts, frameworks, and methods
Qualitative & quantitative research methods (e.g. case study, in-depth interviews, surveys, focus groups, grounded theory), p

articipatory methods and experimentation (e.g. Living Lab approach)

Concepts related to regional and cross-border innovation systems, agri-food innovation in the private sector
Effective communication and academic writing
Website content management, research communication & dissemination via social media
Current EU-funded projects
ROBUST – Rural-Urban Outlooks: Unlocking Synergies
SHERPA – Sustainable Hub to Engage into Rural Policies with Actors
DESIRA – Digitisation: Economic and Social Impacts in Rural Areas
See the list of all projects the group is involved in here
Recent publications
Knickel, M.; Neuberger, S.; Klerkx, L.; Knickel, K.; Brunori, G.; Saatkamp, H. Strengthening the Role of Academic Institutions and Innovation Brokers in Agri-Food Innovation: Towards Hybridisation in Cross-Border Cooperation. Sustainability 2021, 13, 4899. (Open Access) https://doi.org/10.3390/su13094899
Knickel, M.; Knickel, K.; Galli, F.; Maye, D.; Wiskerke, J.S.C. Towards a Reflexive Framework for Fostering Co-Learning and Improvement of Transdisciplinary Collaboration. Sustainability 2019, 11, 6602. (Open Access) https://doi.org/10.3390/su11236602
Knickel, K.; Almeida, A.; Galli, F.; Hausegger-Nestelberger, K.; Goodwin-Hawkins, B.; Hrabar, M.; Keech, D.; Knickel, M.; Lehtonen, O.; Maye, D.; Ruiz-Martinez, I.; Šūmane, S.; Vulto, H.; Wiskerke, J.S.C. Transitioning towards a Sustainable Wellbeing Economy—Implications for Rural–Urban Relations. Land 2021, 10, 512. (Open Access) https://doi.org/10.3390/land10050512
Knickel, K.; Almeida, A.; Bauchinger, L.; Casini, M.P.; Gassler, B.; Hausegger-Nestelberger, K.; Heley, J.; Henke, R.; Knickel, M.; Oostindie, H.; Ovaska, U.; Pina, C.; Rovai, M.; Vulto, H.; Wiskerke, J.S.C. Towards More Balanced Territorial Relations—The Role (and Limitations) of Spatial Planning as a Governance Approach. Sustainability 2021, 13, 5308. (Open Access) https://doi.org/10.3390/su13095308
Knickel M. Flexibility: a key component for successful multi-actor research collaboration | Article on the ROBUST website, 10 March 2020
Knickel M., Knickel K. "Instead of just talking we are actually doing it!" Initial insights into the use of Living Labs in the EU-funded ROBUST project | Article on the ROBUST website, 15 August 2018