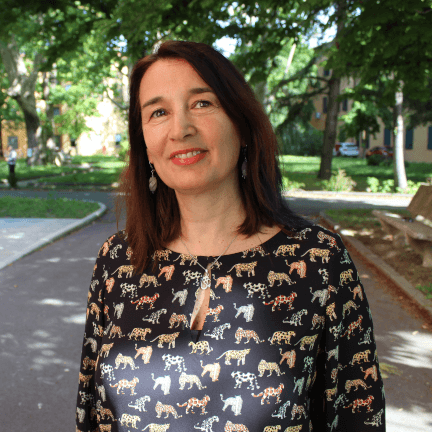 I have 20+ years of professional experience in the areas of agricultural economics, social farming and public health. My experience in national and international projects includes lecturing in the International Master of Science in Rural Development and being a visiting scholar in the US and China – both through Erasmus Mundus and Erasmus+ programmes; working as an international consultant in the indigenous areas of Chile (NGOs), in Syria (FAO project), in China (EU-China project), and in Morocco (WWF project).
I hold a PhD in Policy and Agricultural Economics from the University of Bologna. Later in my career, I provided training courses commissioned by public and private bodies and professional organisations. The courses targeted farmers and agricultural cooperatives, associations and public focussing on the planning of interventions for the diversification of activities on farms and in rural territories.
For years, I have been collaborating with the Rural Economics group at the Department of Veterinary Sciences, University of Pisa. Within this collaboration, I annually organise a summer school on Food and Innovation in Rural Transition. I am also a member of the Laboratory of Rural Studies 'Sismondi' and a president of AICARE – Italian Agency for Responsible and Ethical Countryside and Agriculture, where I am coordinating transdisciplinary work to develop local social farming projects.
Key research interests
Rural development
Social innovation
New welfare models in rural areas
Social farming
Multifunctional agriculture
Core competences
Qualitative analysis
Application of participatory methodologies (workshops, focus groups, living lab)
Current EU-funded projects
SUS-TER – Networking Knowledge, Skills and Competencies for an Inclusive and Sustainable Territorial Valorization of Cultural Heritage, Origin products and Biodiversity. Programme Funding: Erasmus+, Capacity Building in higher education (2019-2022, coordinator: University of Florence, Italy)
See the list of all projects the group is involved in here
Some recent publications
Di Iacovo F., Moruzzo R., Rossignoli C. M., & Scarpellini, P. (2016). Measuring the effects of transdisciplinaryresearch: the case of a social farming project. Futures, 75, 24-35, ISSN: 0016-3287 doi: 10.1016/j.futures.2015.10.009 (SCOPUS: 2-s2.0-84949895036; ISI: 000369550300003).
Rossignoli C., Di Iacovo F., Moruzzo R., Scarpellini, P. (2015). Dairy cattle, livelihoods and resilience in Gaza Strip: a case study. New Medit, vol. 1, p. 24-33, ISSN: 1594-5685, doi: (SCOPUS: s2.0-84994037093; ISI: 000356187100004)
Di Iacovo F., Moruzzo R., Rossignoli C., Scarpellini P. (2014). Transition management, social innovation and support systems in rural areas: lessons from the social farming case. The journal of agricultural education and extension, vol. 20, p. 327-347, ISSN: 1389-224X, doi: 10.1080/1389224X.2014.887761