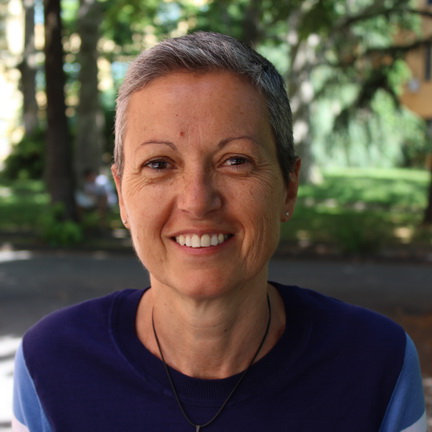 Roberta Moruzzo
Associate Professor

Rural Economics group, Department of Veterinary Sciences, University of Pisa
Contact Info:
roberta.moruzzo@unipi.it
2 Viale delle Piagge, Pisa
I am an associate professor with 25+ years of experience in national and international research projects, and in teaching. During my career, I have collaborated with public, private and third sector stakeholders in the construction of social innovation paths, using a research-action approach. I have published about 70 academic pieces, including journal publications, abstracts for international and national congresses, and books.
I have a significant international experience as a lecturer, promoter, external reader, visiting fellow in such programmes like: International Master of Science in Rural Development (Erasmus Mundus), 'Science without frontiers', Erasmus +, and Erasmus + KA1 – Mobility of Staff in higher education. Since 1996, I have been teaching a number of courses at the University of Pisa, including Economy of agri-food system, Marketing, and Animal Production Science and Technology. Recently, I have started to lecture on Certification, auditing and marketing. I have also supervised students in International Master of Science Rural Development and Master of Arts in Economics.
Recently, I have been active in the initiatives promoting social farming and participation in local development processes in the province of Pisa. I am involved in collaboration on agriculture and animal welfare issues with the association Coldiretti and the national reference center respectively.
Key research interests
Multifunctional agriculture
Social farming
Rural development
Core competences
Transition management
Social innovation
Sustainability
Current and past EU-funded projects
CONTRACTS2.0 – Increased provision of environmental public goods in agriculture through improved contract models
BUzNet – B-learning Uzbekistan Veterinary Network
See the list of all projects the group is involved in here
Some recent publications
Mancini S., Moruzzo R., Riccioli F., Paci G. (2019). European consumers' readiness to adopt insects as food. A review – Food Research Journal, Elsevier https://doi.org/10.1016/j.foodres.2019.01.041
Di Iacovo F., Moruzzo R., Rossignoli C. (2017). Collaboration, knowledge and innovation toward a welfare society: the case of the Board of Social Farming in Valdera (Tuscany), Italy. The Journal of Agricultural Education and Extension, p. 1-23, ISSN: 1389-224X, doi: 10.1080/1389224X.2017.1302889
Di Iacovo F., Moruzzo R., Rossignoli C., Scarpellini P. (2014). Transition management, social innovation and support systems in rural areas: lessons from the social farming case. The Journal of Agricultural Education and Extension, vol. 20, p. 327-347, ISSN: 1389-224X, doi: 10.1080/1389224X.2014.887761