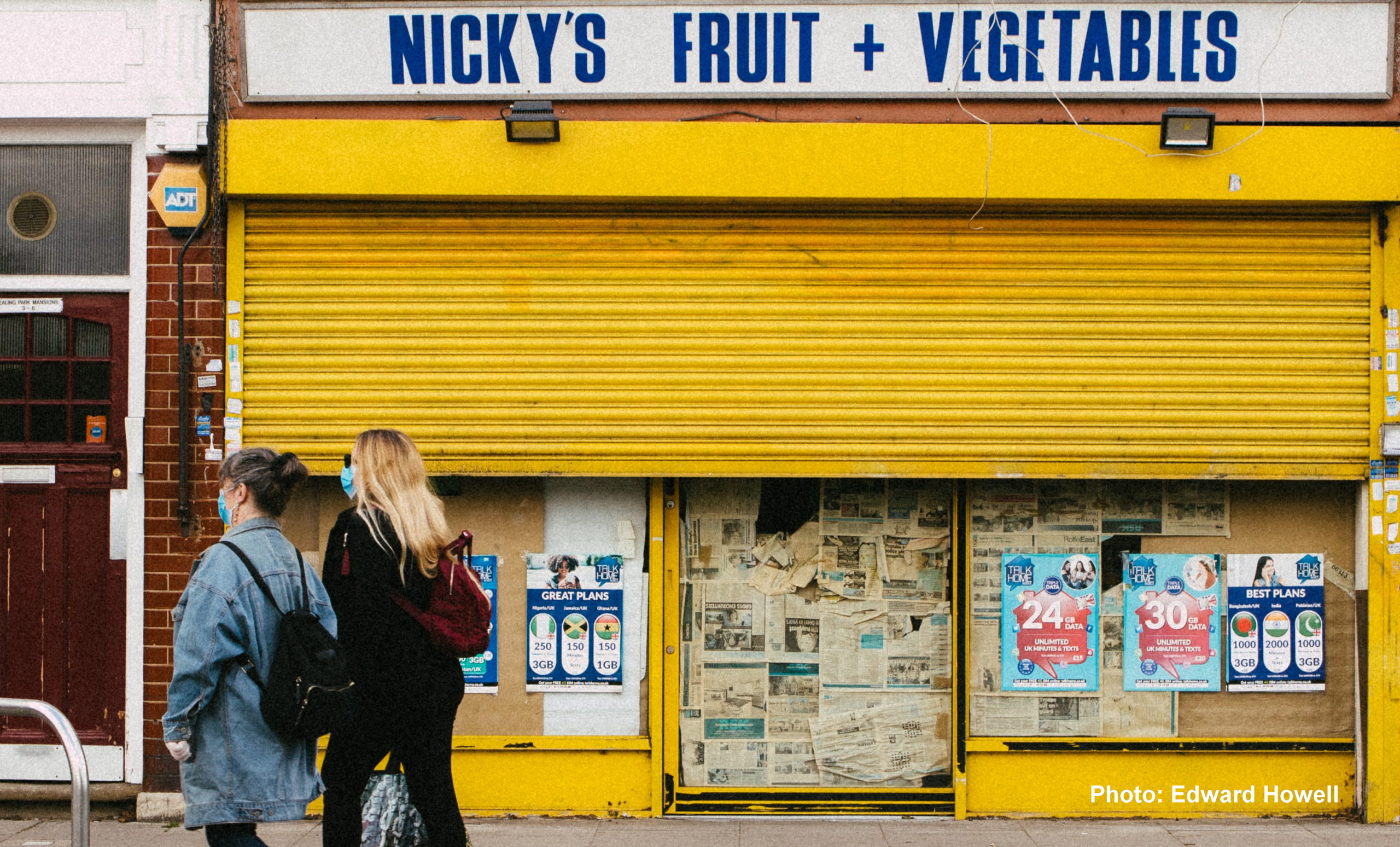 Blog series: Giampiero Mazzocchi|COVID-19 has shown the potential of Urban Food Policies
Written by Giampiero Mazzocchi
Some of the impacts of COVID-19 on relationships between cities and food have already strongly emerged, while others will be visible in the forthcoming months. All of us that live in cities or in close proximity have experienced the disruptions due to the restrictions and the closure of restaurants, canteens and all the places where we were used to buy or consume food, what has been called "food environment". While food consumption patterns have relatively quickly shifted towards food delivery and hoarding of long-life goods, yeasts and flours, frozen foods, packaged foods, dairy products and bottled water, flowing them off shelves, the domino effects of such dramatic changes in the food system functioning have profoundly questioned some issues that, in the last years, have increasingly yet barely entered in the urban agendas: what food do we consume in cities? Where does it come from? How vulnerable are the food value chains?
The impacts of COVID-19 on food systems have multiple facades: the effects in terms of food poverty have been already highlighted in this blog series; the interferences along the food chains have seriously, yet temporarily, endangered food industries; the timing of the COVID-19 spread has hampered the periodic migrations of workers for the harvest season –  a serious threat that Italian Parliament has partially solved creating a path to regularisation for undocumented people working in agriculture and as domestic helpers, estimated in 560,000 individuals in Italy; labor shortages from COVID-19 extend beyond farmworkers to people who operate in the supply chain: workers in processing and packing plants may become ill and take time off work, leaving those industries under-resourced.
Furthermore, universities, projects, networks and international agencies have started conducting different kinds of research to comprehend the effects of the outbreak on diets and food behaviors. One of the main research challenges now is to understand which of these impacts were temporary and which will become structural and permanent. This research gap appears to be particularly relevant considering that little "food revolutions" are emerging, especially in towns and cities.
Urban and regional governments are taking various actions to respond to the COVID-19 pandemic and relieve its effects on food systems, either implementing existing strategies or developing additional/complementary ones. FAO has created the Urban Food Actions Platform to collect initiatives, good practices, innovative ideas, policy briefs or regulations conceived by national, regional and local governments around the world, in collaboration with civil society at different levels. The FAO DGroup Food for Cities has witnessed a sudden surge of communications and requests for information since the first days of March, collecting and disseminating strategies, actions, measures and initiatives that cities have started to launch worldwide. The City-Region Food System programme reports how the COVID-19 pandemic is affecting cities' local food system and discusses ways in which knowledge, resources and capacity have aided their immediate response to the unprecedented threat of food security.
National networks of cities (such as the UK Sustainable Food Places) and researchers (Italian Network on Local Food Policies) have also promoted initiatives to report the main messages coming from cities' responses to the outbreak and to collect information from their members. These initiatives are showing, that, despite the multiple crises that the COVID-19 has triggered, cities' inhabitants and administrations seem to have suddenly discovered the importance of certain proximity practices and models that struggled to emerge (or that didn't want to), which have however become paramount overnight. Just think about the role of urban gardens as land allotments where food can be grown during the closure of markets and congestion and disruption in food logistics and delivery (something that brings to mind the role of Victorian Gardens during World War II); or the importance of small and family farms, which have continued to work providing home delivery food during the first phases of the COVID-19 outbreak thanks to the flexibility and brevity of their chains; or the importance of Solidarity Purchasing Groups and farmers' markets, that have all of a sudden made us realise that neighbourhood food provision and short food supply chains can feed the cities to a greater extent than solely few privileged niches.
In this context, urban administrations have played more or less a central role in accompanying and supporting these initiatives. In Italy, the Milan Food Policy, in collaboration with the Environment and Territory Mobility Agency, has developed a project for optimising logistics to identify the most efficient routes for the delivery of food aid to the poorest families. The city of Toronto has put in place a series of measures to respond to the challenges that COVID-19 has posed to the issues of food availability and access to food. It is no coincidence that both Milan and Toronto are cities that have adopted an urban strategy for planning food systems. Particularly, the Toronto Food Policy Council is "the oldest food policy council in a major city in the world and a hybrid model with one foot in the municipal civil service and one foot in the citizenry".
At the same time, at the community level groups of citizens, informal networks, associations NGOs and have swung into action and are currently exploring alternatives ways for keeping food on the table in a sustainable way. Where the cities' administrations were stalling, they have claimed the need for rapid adoption of emergency measures and offered an active contribution to the resolution of several urgent issues.
These dynamics clearly highlighted cities' ability to react to vulnerabilities such as a pandemic or other natural or economic shocks. In cases where cities had already adopted a food policy at an urban level, the ability to respond to the multiple stresses triggered by the pandemic was greater and more effective. This happened because the city already had a cognitive picture of its agro-food system: the city was aware of the economic and social actors that feed it, the flows of products, the characteristics of the markets, the relations with surrounding peri-urban and rural areas, the problems and bottlenecks of the local food system.
Today, scientific institutions, government agencies, NGOs and various partnerships around the world are strongly supporting the need for urban food strategies. The Milan Urban Food Policy Pact, an agreement signed by 209 cities to date, is the international reference on the topic of food policies and their role in developing sustainable food systems and promoting healthy diets. FAO strongly recognises the role of city-regions as territorial approaches to food security through the City-Region Food System [1] programme, while the number of projects, also EU-funded, that place cities as main agents for the transformation of food systems is increasingly growing.
However, despite a general consensus on the importance and usefulness of urban food policies, the real challenge is to understand to what extent governance models are able to represent the multitude of actors that animate food systems. The RUAF Global Partnership on Sustainable Urban Agriculture and Food Systems calls for a coordinated response "to shore up cities and city region food systems over the coming months, followed by actions to ensure increased resilience to the impact of pandemics and other shocks in the longer term". Adopting an Urban Food Policy does not mean bringing food back to an exclusively local or urban dimension (the so-called local trap). Rather, it means recognising that cities are the nodes where many of the transformations related to the food systems can be observed and examined, and above all, where most of the demand for food is concentrated. This demand involves consumption patterns, the impacts of those are only partially visible in the city but reverberate in the surrounding peri-urban and rural territories in some cases, and even on a global scale in others.
The challenge is to integrate various policies that act on food systems at different governance levels: from national and regional to city levels, it is important to ensure consistency. This can only be done through platforms where a participatory multi-stakeholder dialogue is established and choices are collectively designed. An ever-increasing number of cities in the world is establishing Food Policy Councils and similar groups known under other names (food forums, food policy networks, etc.). Regardless if formally recognised, supported by city administration or even antagonistic to it, they share the will to bring stakeholders together to share perspectives on food systems challenges, to develop innovative solutions, and to influence food-related policy and planning. They are driven by a "desire to transform food systems, making them more sustainable, healthy and just, and ensuring that the needs and interests of those who form the backbone of food supply chains (small-scale producers, processors, distributors, and citizen consumers) are not overlooked". If the process fails to engage with people that are left out of the system, there is a risk of further contributing to the general unfairness of food systems. However, as it is widely acknowledged, for urban food policies to be effective, they need to receive constant support from a City council (even if this can also pose risks: keeping the right distance is the key). Last but not least, such policies should always be thought of as dynamic and aim for a constant re-adjustment based monitoring and evaluation frameworks evidencing what works and what does not.
COVID-19 has highlighted many failures of today's urban food systems. Many of them were already visible, while others were emerging. Today cities have an opportunity to create new narratives around their food systems, establish participatory platforms to define policies, develop interventions and mechanisms of territorial governance for food system transformation, and reinforce cooperation among different local governments and other actors. These are some of the key elements to building the resilience of the local food system to shocks, including pandemics, epidemics, and extreme climate events.
[1] City region food systems encompass the complex network of actors, processes and relationships involved in food production, processing, marketing and consumption in a given geographical region (source)